"I spend half a million on grocery shopping and it's not enough" Actress Moyo Lawal laments
Nollywood actress Moyo Lawal has lamented over the exorbitant amount she spends for grocery shopping.
The actress and entrepreneur revealed via her Instagram page, that she had spent half a million in grocery shopping and still yet it wasn't enough.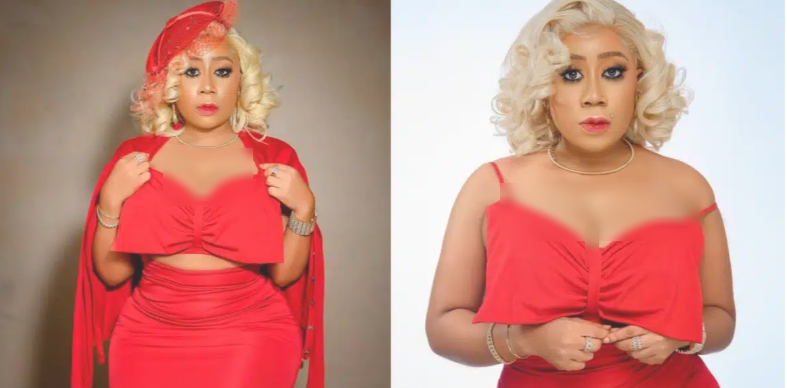 Moyo revealed that she wouldn't be buying anything with her money again.
"How can someone be using half a million grocery shopping and it is not even enough…..can I come to get groceries from ur house because I am done oooh".
Ashmusy reveals she spends 2million daily
Moyo isn't the only celebrity who has lamented over the amount she spends runner her bills.
KFN reported that Instagram skitmaker, content creator and influencer, Amarachi Amusi popularly known as Ashmusy had left many bewildered at the ridiculous amount of money she spends on a daily basis.
The influencer made the shocking revelation on her verified Instagram page.
She questioned if she was the only one who spends atleast 2m on life problems per day.
According to her, she doesn't know where the bills comes from, but they keep coming.
"Please am I the only one that spends atleast 2m on life problems per day? I mean daily…. Is it just me? I don't know where these bills come from but they surely come. They fall like manna from above… Like boom! They just appear…. Pay 400k for this. 700k for this etc. Like whooo whyyy whatttt howwww Everyday".
Didi Ekanem laments about the amount of money she spends on water
Also, Nollywood actress and fashion entrepreneur, Didi Ekanem had lamented about the scarcity of clean water in Lagos State.
The 34-year-old who often reminds her fans that she minds her business took to her Instagram story to lament about the amount of money she has spent to get good water on Lagos Island.
According to her, the money is enough to build a duplex. She also said Lagos island is a mess.
Ekanem wrote: "I'm tired of buying water in Lagos. If I calculate the money I use in buying water a year, it can build a whole duplex. The whole island water is a mess! I don't understand how someone can live in a mansion and not have clean water".