Lovely couple tell their inspiring story in beautiful photos. Netizens stunned
A Twitter post has left people sharing a lot of "awww"s as a tweep shared a heartwarming story of his friend named Nick and his girlfriend Naa, together with some gorgeous pictures.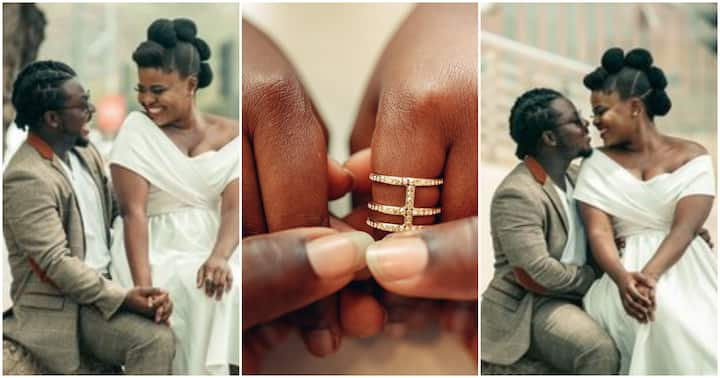 The tweep, who is a photographer opened the post with a narration of how Nick met Naa and the bond they have shared for years now.
He stated that Nick randomly told him one day that he had met a lady on campus and that they had started dating, he said he wished him good luck, and that was when the Romeo and Juliet affair kick-started.
.
We were shooting the Aboakyer festival a year later when Rachel joined us. We went to the beach after. It was a full moonlit night and also their first anniversary. pic.twitter.com/kAfTEqjtgi

— PhotoGerard (@Gerard_Nartey) May 12, 2022
.
He shared how Nick's girlfriend started joining them on outings and the beautiful moment they had.
The story goes on about how they continued dating after graduating from university and how their bond grew strong even though life separated them for a while. He narrated that Nick worked on his photography as his girlfriend Naa had some opportunities abroad and had to leave for some years.
But eventually, the distance brought some hitches in their love affair, and they had to break up, but the love train got back on track as the couple got together again, and to his surprise, one day, nick announced that they were getting married. They had a beautiful pre-wedding shoot, and he posted some lovely photos of the shoot.
See photos below:
.
We decided to do a small Photowalk in Accra and end up at a cafe – activities that we'd all done together in the past with me as the 3rd wheel. It was magic from the first shot. Our street-style Pre-Wedding in Accra, Ghana. pic.twitter.com/hHJ3pn4A6s

— PhotoGerard (@Gerard_Nartey) May 12, 2022
.
He further narrated some emotional details of the shoot, and this warmed the hearts of a lot of tweeps.
Social Media Reacts To Photos Of Beautiful Couple
henryniikwao was excited and impressed with the thread and said:
Hmmm go proper school o!.Achimotan ingenuity and brɔfo flowing through the thread with so much ease, I couldn't pause till I had seen and read the next tweet!Congrats @kwesi_mufasa and great job @Gerard_Nartey. It's a Gyamfi tingg! @[email protected]