Smile Foundation performs surgeries in Gqeberha
The Smile Foundation is conducting 30 facial reconstruction surgeries as part of Smile Week in Gqeberha in the Eastern Cape. This year's Smile Week is in collaboration with a cellphone company, to ensure families who cannot afford expensive surgeries are assisted.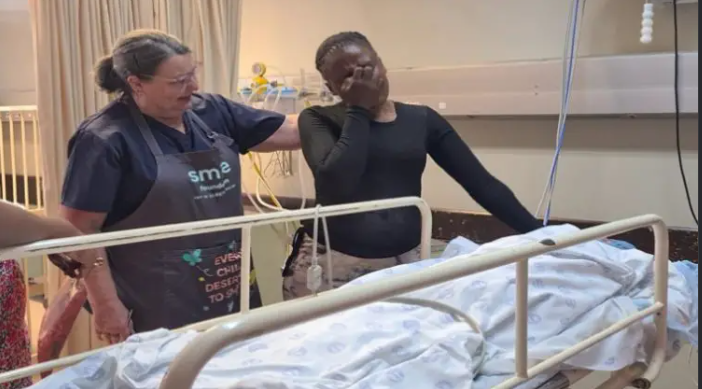 The Smile Foundation has been operating for more than 22 years and this week the aim is to bring a smile to the faces of 30 more patients. One of them is 15-year-old Richard Visagie who has been in and out of hospital since he was burnt in 2020. He finally had this life changing surgery.
The Head of Plastic and Reconstructive Surgery at the PE Provincial hospital, Dr Chris van der Walt, says that Visagie's operation was a success.
"Richard is one of our patients, he sustained electrical burns which are common in South Africa due to illegal connections. He had injuries on his hand and sculp, we are now trying to reconstruct that scarring. We will now stretch his skin and we did that yesterday, the operation went very well and the whole process will still take another 3 to 6 months to complete."
When the Smile Foundation started its work, doctors from other countries had to be brought in.
They trained South African doctors and today, these surgeries are possible. Richard's mother, Verushka Visagie, says that she will forever be grateful for this.
"It was a tough year 2020 seeing my child like that and other children teasing him. He was going through a tough time at school because he couldn't write with his normal right hand so he had to adjust. The Vodacom Foundation helped us a lot, they talked to us and gave us a lot of things."
This programme happens in 17 hospitals around the country throughout the year, where the Smile Foundation gets sponsors to fund the surgeries. This year's programme has been sponsored by Vodacom.
Eastern Cape Hospital Co-ordinator for the Smile Foundation, Tanya Jackson, says being part of the foundation is rewarding.
"This foundation started when a young girl wrote to Nelson Mandela, she was assisted and is now part of the foundation as an adult. Being part of the Smile Foundation is so rewarding in that when people come in the hospital, they have a condition that can be fixed, we know that because we give them hope and a smile and able to assist them in their condition." To date , the Smile Foundation has completed over 4000 surgeries. – Reporting by Nandipha Plaatjie
Source: eNCA