A queen & more: Cute bride steps out with convoy of aso-ebi girls in cool video
A Queen & More: Sweet Nigerian Bride Steps Out with Convoy of Aso-Ebi Girls, Stunning Video Attracts Reactions, Aso-ebi step-out just got hotter as has been seen in one sweet video. In the video, a Nigerian bride was seen coming out in style, attracting attention both on and offline.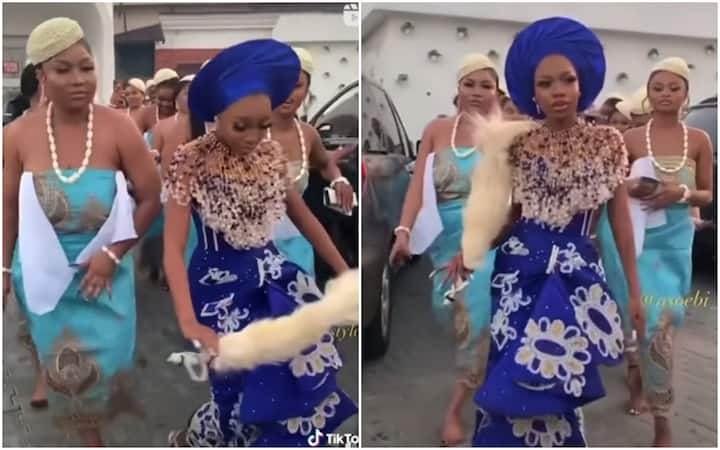 She stepped out in full native regalia with what has been described as a convoy of aso-ebi girls, mesmerising the whole reception arena.
Beautifully dressed, well organized aso-ebi, dancing to Na We Dey by Flavour Nabania
The bride was dressed in a beautifully tailored blue gown that has nice diamond-like beads, making her shimmer and dazzle as she stepped out.
Her girls were all traditionally dressed, with sky blue wrappers tied above the chest and a white handkerchief fastened around the chest. This created a dramatic display of colours that was very good to look at. The nice video was posted on Tiktok by @igboweddings.
Watch the video below:
`
`
Tiktok users react
The video of the aso-ebi convoy has attracted interesting reactions from those who have seen it. A few of the reactions go as follows:
@Iamcynthiabanks said:
"Can't wait to get married only to show off hahaha."
@Jalesia reacted:
"Nigerian women are top tier!"
@Chris commented:
"She walks a real queen. Igbo amaka. My beautiful people."