Amazulu striker marries club CEO Sne Zungu [PHOTOS]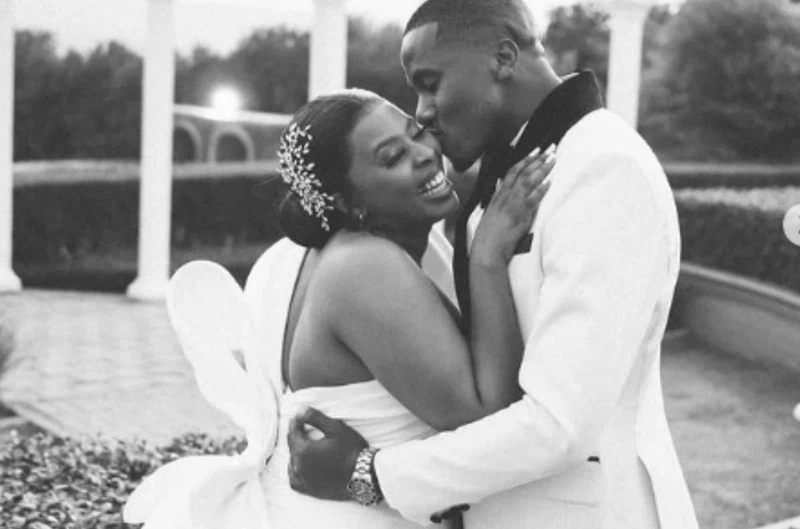 Amazulu Football Club CEO Sinenjabulo "Sne" Zungu married club's striker Bongi "Mdeva" Ntuli over the weekend.
AMAZULU CEO SINENJABULO ZUNGU MARRIED
Amazulu CEO Sinenjabulo "Sne" Zungu took to her Instagram account on Sunday, 10 September to share a video of her wedding to club striker Bongi Ntuli.
Sunday World reports that Sne's father, Sandile Zungu, who's the club's owner hired a helicopter to drop off his daughter in style at the alter to make her feel special.
Zimoja previously reported that Zungu and the club's striker tied the knot in a traditional ceremony on Sunday, 28 May with family and close friends.
It is revealed that the pair's umembeso was held at her father's private residence in the Midlands and their engagement and wedding was kept a secret as they didn't want people to know, especially the media.
Sne's older brother Bonga was the MC, her father Sandile Zungu, who recently had a baby reportedly gave his daughter away to her new family and guests honoured the black and white theme.
"The isiZulu traditional do forms part of the process of a traditional isiZulu wedding – that celebrates the union between two families and is usually done once lobola has been paid and involves the exchange of gifts", adds the publication.
Guests who attended the traditional ceremony included businessman Moses Temba, Amazulu players Ramahlwe Mphahlele, George Maluleka Dumisani Zuma, Mbongeni Gumede, Samkelo Mgwazela, Thembela Sikhakhane, Sibusiso Mabiliso as well as TV presenter Richard Ndlela with his wife Tumi.
'BONGI NTULI FELL IN LOVE WITH SNE AT FIRST SIGHT'
Sources close to Amazulu striker Bongi Ntuli and CEO Sinenjabulu "Sne" Zungu revealed to Zimoja that the pair met in 2022 when the Zungus took over the club.
"It was love at first sight. Initially, they tried to fight off the feelings because they work together but couldn't win. For S'ne meeting Bongi came at the right time because she had been single after breaking up with the daddy of her child."
Another source said: "What I know is Bongi used to have a baby mama, with whom they have two children, and he often posted them on his social pages."
The source adds that Ntuli sent his uncles to the Zungus to negotiate lobola: "The wedding bells will ring soon, that much I can assure you. Mr Zungu is supportive of his children in whatever endeavours they engage in and Sne is no exception."