Emtee speaks on seperation from wife Nicole Chinsamy [video]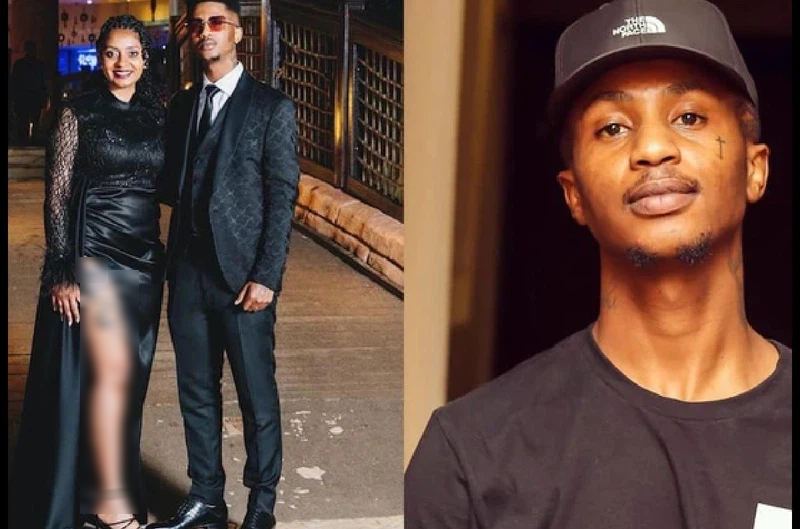 In a recent interview, rapper Emtee opened up about his allegedly messy divorce from the mother of his three children, Nicole Chinsamy.
Hip hop artist Emtee – real name Mthembeni Ndevu – has opened up about his seperation from his estranged wife Nicole Kendall Chinsamy.
EMTEE SPEAKS ON SEPERATION AND CO-PARENTING
Speaking to fellow rapper and podcaster L-Tido on his YouTube show the L-Tido Podcast, the Manando hitmaker said that things were good between him and Nicole and they have a healthy co-parenting relationship.
"Right now we cool, we just had our first daughter … right now things are OK because I get to see my children, spend time with them, play with them, so I'm grateful for that. Only time will tell, concerning other things. but for now, we cool, there's no bad blood," he said
The former couple share three children; firstborn son Avery, born in 2015, second son Logan, born in 2018, and daughter Nairobi, who was born this year.
Emtee also shared that he is enjoying fatherhood.
"Fatherhood has changed me in a lot of ways, how I treat other people … I don't want anybody f*cking with my children, or somebody is going to die. I treat people with respect, and they witness that, I don't refuse any pictures.
"I want my children to learn that no matter what position you're in, in life always respect people. They know that about me. F*ck all that other sh*t. My children know me for who I really am."
'MESSY DIVORCE'
Earlier this year, Nicole opened a case of assault with intent to do grievous bodily harm (GBH) against the Roll Up rapper, which she later withdrew.
In May this year, Nicole accused him of trying to bankrupt their joint estate after he allegedly transferred over R500 000 from their trust account, Sunday World reported. However, Emtee later undertook to pay back the money.
According to the court papers, wherein she filed an interdict to force Emtee to pay back the money he transferred, Nicole revealed that they married in community of property in 2019.
She stated that she wanted the trust fund untouched until they finalised their divorce. In addition, the court interdict was to stop Emtee from taking loans against their assets, squandering their assets, depleting the bank account of Emtee Records or trust account or selling shares in Africa Trap Movement, as she says that she, too, is entitled to the assets.
While Nicole said Emtee has shares, stakes and/or assets in Emtee Records and African Trap Movement, she admited that she does not know the value. She, on the other hand, reportedly does not own any assets except a laptop, cellphone, jewellery and clothing, which is estimated at R100 000.