'I wish she still had her dad': Emotional DJ Zinhle comforts Kairo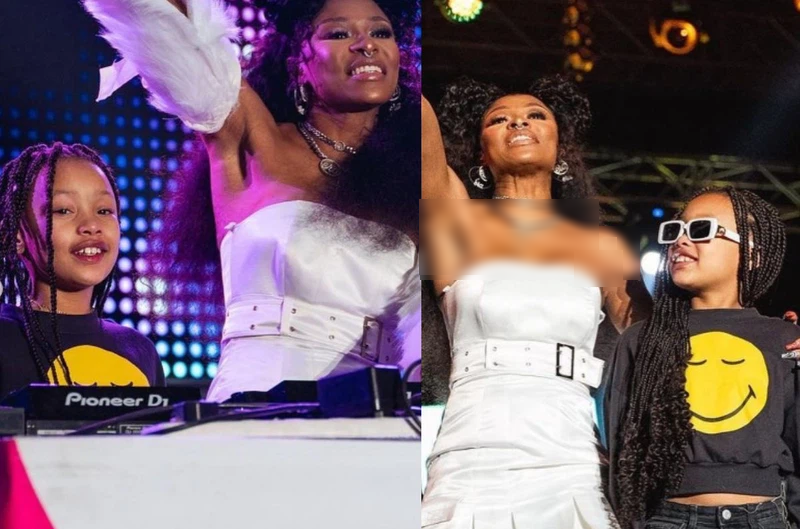 South African DJ Ntombezinhle Jiyane, popularly known as DJ Zinhle, took to Instagram to express how brave her eight-year-old daughter Kairo Forbes is – on Sunday 3 September.
DJ ZINHLE COMFORTS KAIRO FORBES
Kairo Forbes bravely performed her dad – slain rapper AKA's song Company at 947's Joburg Day on Saturday 2 September. Following her performance, her mom DJ Zinhle took to Instagram to express how brave she was.
"After bravely performing her dad's song in front of thousands of people, my 8 year old broke down crying saying she just misses her daddy & wishes he was here. Actually, Kairo tries a lot to suppress her feelings and this is one of the few times I've seen her cry like that," she wrote.
DJ Zinhle revealed that this happened while DJ Zinhle was being announced for her performance.
"This is happening while @thando_thabethe is announcing me for my performance. @nadianakai is so brave, she took over as I walked onto the stage crying & heart broken Halfway into my first song, @kairo.forbes was standing next me – check the last slide. You can see that she literally wiped her tears and stood bravely next to me," she continued.
The mom of two then added that she wishes her daughter still had her dad. Kiernan Jarryd Forbes, popularly known as AKA, was shot dead outside of Wish restaurant on Florida Road, Durban on 10 February, along with his friend Tebello "Tibz" Motsoane.
"I am so proud of her but I wish she didn't need to be so brave. I just wish she still had her dad," she added.
NADIA NAKAI GUSHES OVER AKA AND DJ ZINHLE'S DAUGHTER
This comes after Nadia Nakai, who was AKA's girlfriend at the time of his death, gushed over Kairo after their performance at 947's Joburg Day.
"I love her so much! 🥰 She did so amazing tonight!!! Her dad would've been so proud! Thank you to the @themegaband for tonight!!!! ❤️," she wrote.
"Love you too! My favourite girl! ❤️," commented Nadia.