Inside Jessica Nkosi's daughter's expensive birthday party [watch]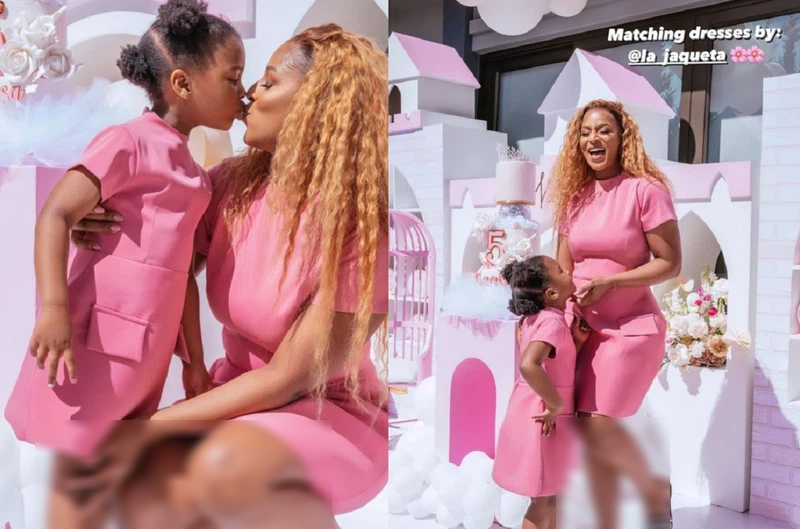 Jessica Nkosi and TK Dlamini threw a princess-themed party for their daughter Namisa as they celebrated her 5th birthday.
Undoubtedly, celebrities have kept their immediate families under wraps over the years, especially kids, but that hasn't been the case with celebrated actors Jessica Nkosi and TK Dlamini.
Over the years, the two have kept their private life under wraps, leaving many to guess, but this time, they wowed Mzansi as they celebrated their daughter's fifth birthday.
INSIDE JESSICA NKOSI'S DAUGHTER'S EXPENSIVE BIRTHDAY PARTY
It was classy, and it screamed opulence. Jessica Nkosi and TK Dlamini went all out for their daughter's birthday, and Mzansi was more than impressed.
Namisa's parents threw her a princess-themed party with pink as the theme colour. Celebrated Chef Nzuza did justice on the cake and other meals.
The viral videos from the party have since flooded social media with comments of appraisal. On the other hand, Nkosi took to Instagram to praise Chef Zuza for making the birthday priceless.
"Me: Namisa said she would like a princess themed party… @chefnzuzaofficial : SAY NO MORE!!! Then goes and does THEEEEE MOST!!
Reason I will never stop ordering cakes from them, their cakes taste as good as they look 😍😍😍."
"Thank you to the whole team at @chefnzuzaofficial 😘 You outdid yourselves as always 🙌🏽🥹 Namisa was so happy ❤️."
KEEP THEIR PRIVATE LIFE UNDER WRAPS
A few months ago, Jessica Nkosi and TK Dolamini pulled a shocker when they revealed they were expecting. The news made rounds on social media after Jessica Nkosi shared pictures of her pregnancy photoshoot.
She also had a baby shower. However, Mzansi was more than puzzled when she showed up at Hollywoodbets Durban July with a flat tummy. No doubt, even today, no one knows when the power couple welcomed their bundle of joy.