Jos: After they shot the wife, her husband ran over her and told them to kill him instead- Witness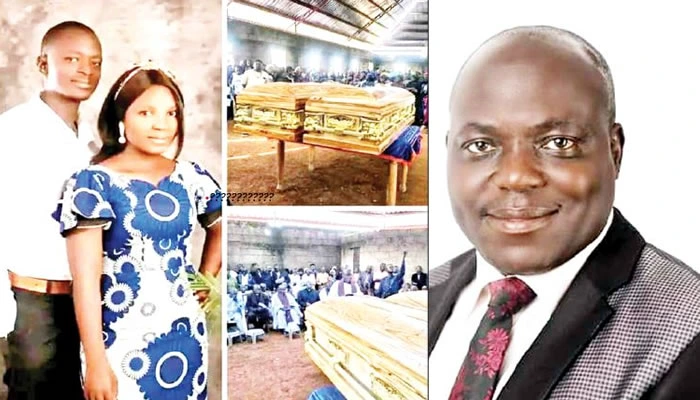 According to a news that was published some days ago, it was reported that two newly wedded couple, Barnabas Rwang, 27, and his wife, Sandra, 24, were allegedly shot dead by herdsmen in Plateau State on August 14th, 2023 after some herdsmen invaded their school premises with their cows.
However, in the news that was published by the Punch Newspaper online yesterday, it was reported that Sandra's uncle, Davou Mang, has narrated how the two couple were killed by the assailants.
While Mang was introducing himself, he said that the wife was his niece, and they were from the same village as the husband as well.
He said, "We were just generally related to the husband and some others within the same village. The couple got married on March 25, 2023. You know, the man and the woman were neighbours. They were in the same village, and their houses were just a few metres away from each other. They grew together. So they fell in love, and eventually married. I attended the wedding, and you could see the love between them during and after the wedding.They were both teachers at BECO Comprehensive High School Kwi in the Riyom Local Government Area of Plateau State."
While he was narrating how they were killed, he said, "On that particular day, I found myself in Jos, when I received a call from my younger brother. As I mentioned before, the woman involved was our relative. My younger brother informed me about the distressing incident at the school. You see, the school premises are partially enclosed by a fence. On that day, the school staff was gathered for a meeting, they were preparing for a speech and prize-giving ceremony. During the meeting, a rather unexpected event occurred, as a group of cattle entered the school compound.
Due to this, the school's security guard approached the herdsmen, instructing them to move their cattle away from the premises and it appears that some of the staff members also said the same message to the.herdsmen. However, unknown to them, these herdsmen were armed. Suddenly, the environment was shattered by the sound of gunshots and some people were shot. This event raised suspicion that this might have been a premeditated attack, because why would they open fire simply in response to request for them to vacate the school's compound?
Further talking, he said, "I learnt that they shot the woman first. She wanted to run away, but the herders stoned her legs, and she fell before they shot her. They came with guns. She was unarmed. After they shot the wife, her husband ran over her and told them to kill him instead.
He wanted to rescue her and told them not to hurt his wife. Some people narrated that the man said, 'Just kill me and leave this woman alone.' But, the killer herdsmen did not listen to his pleadings and after shooting her, they shot the man too."
Source: Punch Newspaper