Legendary Jazz artist laid to rest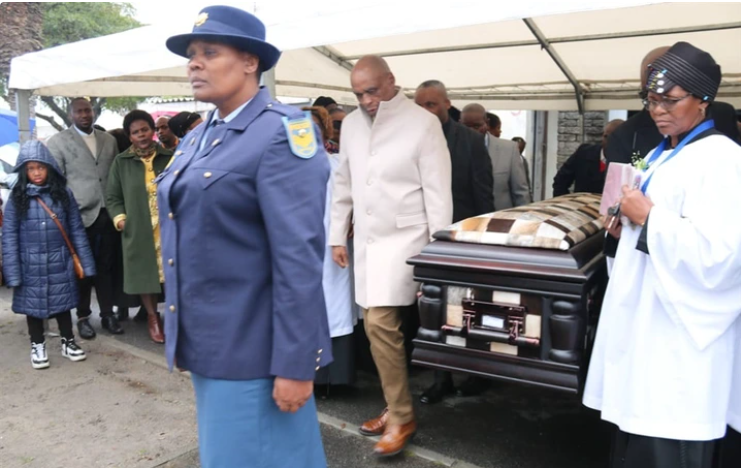 On a somber Saturday, September 2nd, Cape Town bid farewell to the iconic jazz luminary, Sylvia Ncediwe Mdunyelwa, whose passing occurred the preceding week. Sylvia, whose illustrious singing career took flight in the early 1970s, regrettably departed this world at the age of 74 on August 25th.
The funeral proceedings garnered a distinguished assembly, boasting luminaries such as the Minister of Sports, Arts, and Culture, Zizi Kodwa, and Leonard Ramatlakane, in the presence of other esteemed dignitaries. During this poignant commemoration, Minister Kodwa delivered poignant eulogies, extolling Sylvia Mdunyelwa as one of South Africa's preeminent artistic voices whose musical contributions had wielded significant influence on the nation's sociocultural dialogue.
Minister Kodwa underscored that artists of Sylvia's caliber transcended the bounds of mere entertainment; they harnessed their artistic craft as a medium for conveying profound messages. In his address, he lamented that the nation might not have bestowed due recognition and accolades upon its artists, encompassing musicians, for their pivotal roles in shaping the nation's ethos, unity, and identity.
During this solemn gathering, Sylvia Mdunyelwa's sister-in-law, Yolisa Kobus, offered poignant insights into the profound bond shared between the late artist and her brother, Kwezi Kobus. Yolisa depicted them as inseparable, wherein the presence of one was invariably accompanied by the other. Their dedication to one another was unwavering, with Kwezi wholeheartedly devoting himself to nurturing their companionship. Sylvia's munificent spirit, characterized by her readiness to extend a benevolent hand, even bestowing her last cent upon those in need, endeared her to both family and acquaintances alike.
Sergeant Nonkosi Mapukatha, hailing from Langa SAPS and entrusted with overseeing the Victim Friendly Room, shared her profound collaboration with Sylvia Mdunyelwa. She illuminated Sylvia's indefatigable commitment to the community, particularly underscoring how Sylvia readily accommodated engagements involving dialogues with young girls in educational institutions. Sylvia's inclination to pause her own obligations to engage with and inspire the youth was indeed noteworthy. Her unwavering aspiration to witness positive transformation within the community was palpable in her unwavering dedication.
Minister Kodwa expressed profound remorse that Sylvia Mdunyelwa's demise transpired just as preparations were underway to pay tribute to her remarkable artistic contributions. As a final honor, Sylvia was interred at the Langa cemetery, a poignant resting place that epitomized the reverence accorded to her enduring legacy.
This solemn commemorative event functioned as a resounding testament to the timeless influence of Sylvia Ncediwe Mdunyelwa within the jazz realm and the broader spectrum of South Africa's cultural and societal narrative. Her musical artistry and indomitable spirit shall remain as enduring echoes, resonating with generations to come, serving as a poignant reminder of the transformative potency of art and the enduring legacies created by those who employ their talents to convey profound narratives.
https://www.snl24.com/dailysun/celebs/jazz-legend-slyvia-mdunyelwa-laid-to-rest-20230903