Married to who? Nandipha's wedding ring sparks confusion [photos]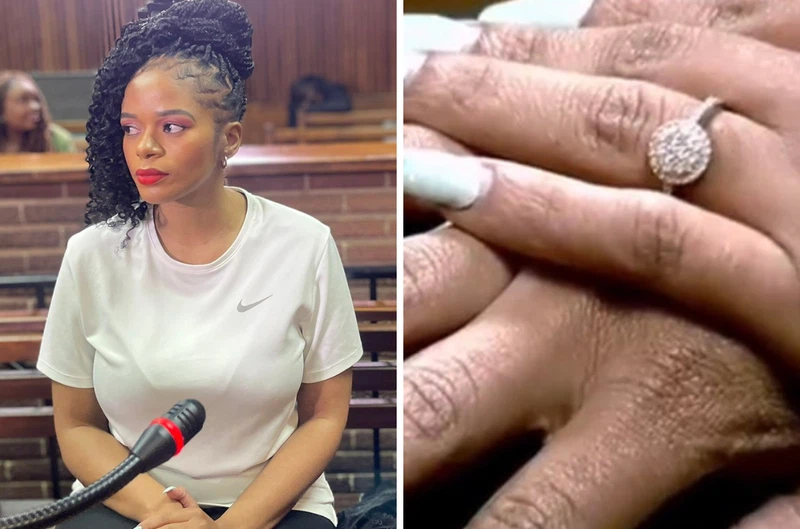 Nandipha Magudumana – who claims that Thabo Bester paid lobola for her – sported a diamond ring in court. Who exactly is she married to?
Nandipha Magudumana was accused of playing the sympathy card once again after she sported a wedding ring in the Bloemfontein Magistrates Court on Monday, 11 September. But does it have anything to do with her co-accused, Thabo Bester?
Despite being denied bail based on being a "flight risk," the celebrity aesthetics doctor has portrayed herself as a respectable mother and married woman.
Magudumana  – accused of helping Bester escape prison last year – will remain in custody at the Kroonstad Correctional Centre in Bloemfontein for the duration of her trial.
NANDIPHA WEARS A RING IN COURT
In scenes from the Bloemfontein Magistrates Court, Nandipha Magudumana was seen glammed up for another appearance in the hot seat.
With bright red lips and a stylish upstyle, the disgraced doctor showed off her best side for the cameras.
But many spectators – and social media users – were focused on a flashy diamond ring on her wedding finger.
It's not the first time Nandipha has shown off her bling jewellery. In May, the mother-of-two was the talk of the Twitter streets following a questionable appearance.
RELATIONSHIP STATUS
Nandipha Magudumana and Thabo Bester allegedly embarked on an explicit affair while he was behind bars after being convicted of rape and murder in 2012. He was serving a life sentence.
At the time, Nandipha was married to Mkhuseli Magudumana, who is also a medical doctor. The former couple share two daughters together: Ayana and Aziza.
But according to an affidavit, Magadumana claimed she was Bester's "customary wife." In a tweet posted following her arrest, former friend Redi Tlhabi claims the couple divorced in 2022. However, conflicting reports claim that Nandipha is still legally married to Mkhuseli.
This was confirmed in Nandipha's bail application, where she revealed that she is currently separated from her husband.
In her sworn statement,  Nandipha claims she met Thabo Bester at Wits University in 2006, where he allegedly studied theology. Bester, however, only has a grade 7 education, claims official reports.