Nigerian nurse working abroad stirs up reactions as she reveals details of her N1.5 million monthly salary (Video)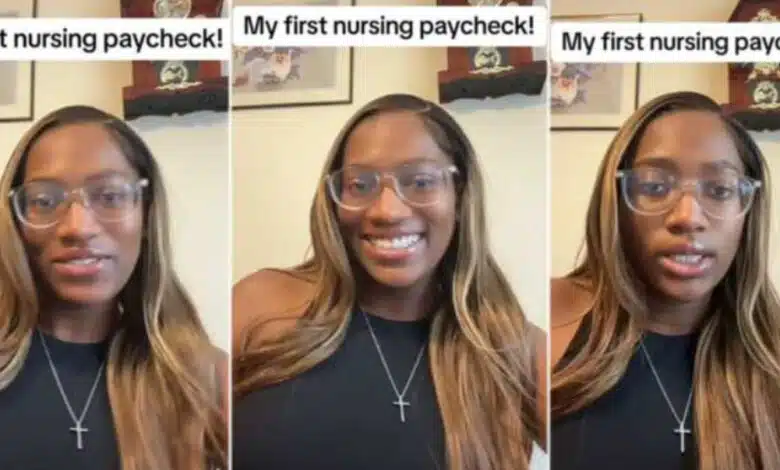 A TikTok video featuring a Nigerian nurse working abroad has sent shockwaves through social media platforms, showcasing a monthly salary of over N1.5 million after tax deductions.
The video, which has rapidly gained viral status, has ignited a fervent online discussion regarding income disparities in the healthcare sector.
In the video, the nurse jubilantly disclosed her substantial earnings, which amount to approximately N2 million before taxes.
She went on to reveal that she pays approximately N500,000 in taxes each month, leaving her with an impressive take-home salary of N1.5 million naira.
This revelation has sparked a flurry of reactions from Nigerians on social media.
Many have expressed their curiosity about the nurse's location and how to pursue similarly lucrative healthcare positions abroad.
Nurses in Nigeria have long been advocating for improved wages and working conditions.
The average monthly salary for a nurse in Nigeria is significantly lower than what this nurse abroad has disclosed, making her income a topic of great interest and discussion.
Netizens Reactions…
@Lex63773 reacted; "Over $600 in taxes is insane!!!"
@Ashli O'Neal said; "Nurses should definitely get paid a lot more!!" 
@Roneisha commented; "You need to increase your 401k deduction so that your take home will be taxed less also getua ira at your bank do $5k a year & u can write it off."
@Abbey Erica Dixon commented; "That's insane. 3rd year MRI technologist, I make $46.80 an hour."
@Sapphire May said; "Thanks for the transparency!"
@Juhnae said; "l don't know but but sound kinda good to me or am i trippin." 
@BreshiaRobinson said; "I make S$34 as a LPN that's crazy."
@ChaChaE said; "HUUuh l made more as a CNA in FL."
@Breshia Robinson said; "This is why I say you only see money with overtime! My checks be 5K with 40 hours OT."
See below;