Rugby World Cup: Meet the Springboks' WAGS![photos]
Springboks WAGS: Meet the ladies behind the South African national Rugby team as the Rugby World Cup kicks off on Friday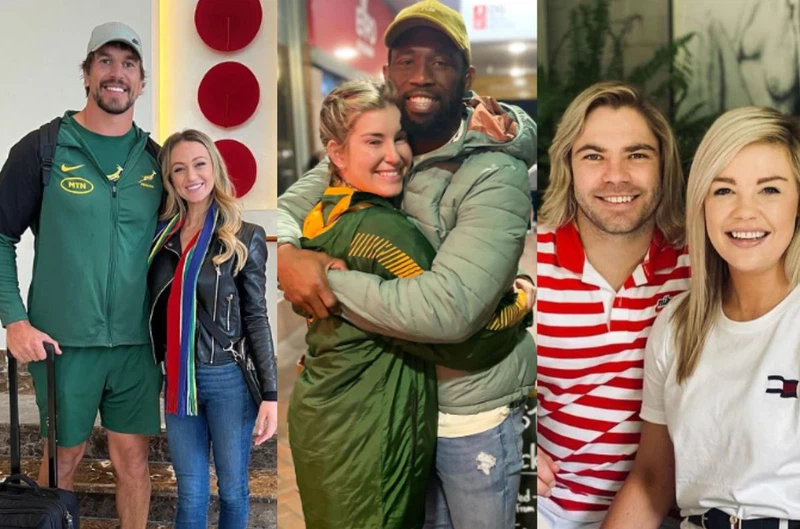 South Africa is beaming with pride as the national team the Springboks are set to play their first match in the Rugby World Cup on Sunday 10 September.
The boys in yellow are up against Scotland on Sunday 10 September in their first match in the Rugby World Cup. Aside from having Mzansi's support, the Springboks are also backed by their significant others. So, who are the Springboks WAGS?
ALSO READ:
THE SPRINGBOK WAGS LINE-UP:
1. RACHEL KOLISI – SPRINGBOKS FIRST LADY
The Springboks "first lady" is Rachel Kolisi, wife of Springboks captain Siya Kolisi. The pair, who met at a dinner party in Stellenbosch, Westerm Cape in 2012, got hitched in 2016. The loving couple have two children together — Nicholas (9) and Keziah (6).
2. ANLIA ETZEBETH
Eben Etzebeth married singer and actress Anlia at the La Paris estate in Franschhoek, Western Cape in February this year. Anlia and Eben met in Melkbosstrand, a coastal village north of Cape Town, in October 2021 – according to The Citizen.
3. HOPE MORTIMER
Jesse Kriel is in a relationship with chartered accountant Hope Mortimer. The couple have been together for quite a few years and love travelling together. They've been to Bali in Indonesia, the Maldives and Italy together.
4. MINE DE KLERK
Faf de Klerk married his fiancée Miné van Niekerk at La Paris Estate in Franschhoek in October 2022. The pair have been together for a total of six years.
The pair met through mutual friends back in 2015 and Miné reportedly invited him to a wedding thereafter. Their love grew over the years. Faf proposed to Miné in May 2022.
5. DOMENICA VIGLOTTI 
Damian De Allende and his Italian partner Domenica Viglotti have been together since 2019. He penned a sweet birthday tribute to his "baby mama" in August this year.
The pair are engaged and have two kids together – a two-year-old boy and a baby girl.
6. LAYLA KOLBE
Layla Kolbe is the wife of Cheslin Kolbe. The pair have been together since 2013 and met at the DHL Newlands stadium. The pair have three children.
7. INGRID VAN HUYYSSTEEN
Frans Malherbe married Ingrid van Huyssteen in February this year.