She's got moves: Ayanda Borotho's pansula dance breaks Insta [video]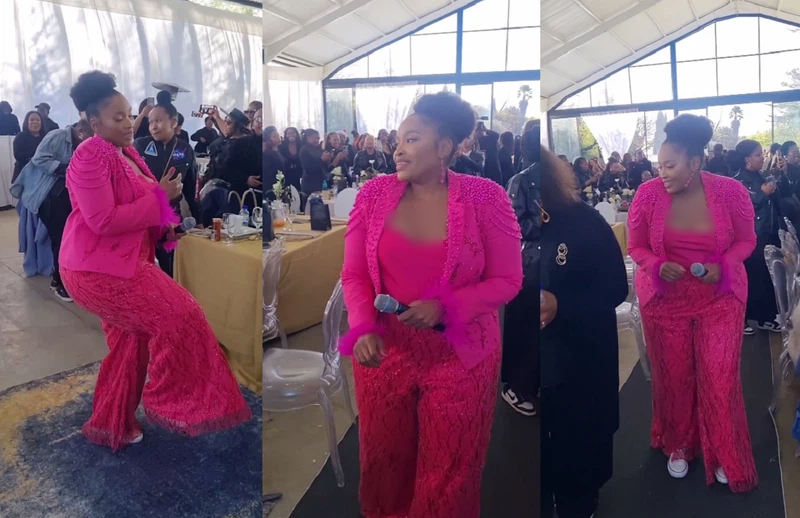 South African star actress Ayanda Borotho impressed fans with her delicate pansula dance moves on Instagram.
South African actress Ayanda Borotho's pansula dance impressed fans on Instagram.
The talented actress had been at the top of acting since 1999, when she joined Generations.
Her onset skills have made him one of her generation's most followed and loved stars.
Off the screen, Ayanda is also one of the pleasant souls around.
Recently, she pulled off impressive dance moves that impressed the people at the event.
When she shared it on Instagram, her fans loved it and showed her love.
"B'coz the pansula in me never rests❤🧡💛💜. When The Muffinz did their TKZEE rendition, a special request by yours truly🙈"
AYANDA BOROTHO PANSULA DANCE BREAKS INSTAGRAM
It seemed Ayanda had been the Master of Ceremony for her book launch event.
Ayanda pulled off impressive dance moves with a mic that greatly impressed fans.
She was moving from table to table as she cheered the ladies in the room.
Appreciating the ladies who attended her special event, Ayanda thanked them with a heartfelt message.
"Thank you my Queens. I could never thank you enough. That you for showing up for yourselves. Fot doing it for you. For choosing you.
We will need meet again soon. I love you. I honour each and everyone of you." she thanked them.
MZANSI REACTS TO HER MOVES
After Aaynda Borotho shared a video of her pansula dance moves, fans loved it.
"U and Sindi Dlathu are my main legends 🔥🔥🙌🙌🙌 and u are ageing so well 😍😍"
"Love to see it. So many legends in one room😍🔥🔥"
"The ever so cool mommies 😍🥰❤️ @nobuntusa @sindi_dlathu pansula for life"
"What a day this was. Fun was had. We need a repeat😍"
"I'm here for that gun wielding sign 😂😂😂 pantsula for life"