She's now walking: Faith Nketsi's baby goes shopping [video]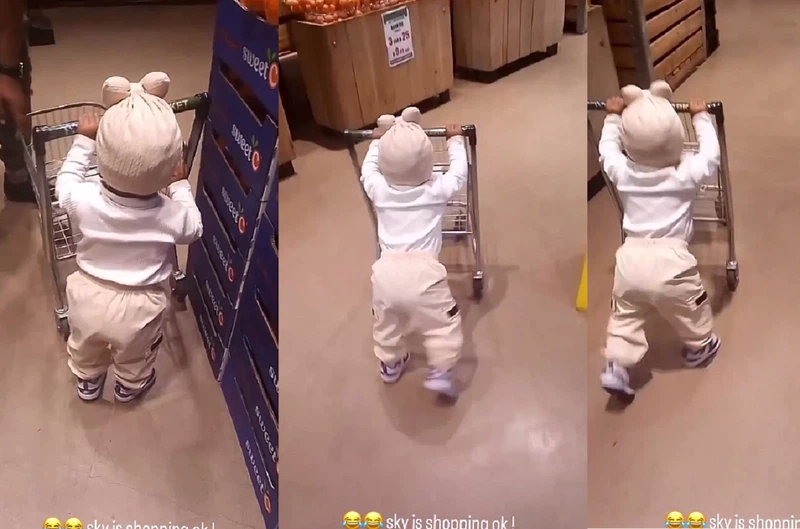 Faith Nketsi's baby Sky has grown up as she is now walking and goes shopping.
A few months ago, Faith Nketsi gave birth to her daughter Sky.
Many fans still asked her to show her face, but she seemed unprepared.
Surprisingly, her daughter is walking and can even go shopping with her mother.
Sharing on her Instagram stories, Faith Nketsi showed her daughter walking alone, pushing a trolley.
Even her mother seemed surprised at her ability to make the trolley independently.
"Sky is shopping ok!"
FAITH NKETSI'S BABY GOES TO SHOPPING WALKING ALONE
Even though she is sure to be able to shop on her own, Sky has grown so fast.
She could push her baby trolley quickly, surprising many people, including her mother.
One thing: Faith Nketsi's baby could only use her body weight to push the trolley but could not control it.
She pushed it until she bumped into the shelves, and that's when her mother came to help direct the trolley.
FAITH IS A HAPPY MOTHER
More than not, Faith Nketsi has shown how much she was enjoying motherhood.
A few hours before she posted her daughter pushing a trolley, she had spoken of the ups and downs of motherhood.
She also posts pictures and videos with her daughter, which many fans love.
She celebrated her birthday a few weeks ago but did not share many pictures and videos on Insta.
A few weeks before, she celebrated her ten months when she poured out her heart.
"Happy 10 months 💃🏼… 😭. I'm not sure why time is flying like this but, these past 10 months have been the best 10 months of my whole entire life because of you my beautiful sky sky 🥹❤️ I love you soooooooo much ❤️😍❤️" she said.