South African Actors who were Arrested in Real Life
Sometimes we take actors too personally when they portray villainous characters as thugs or gangsters. We end up thinking they are real-life thugs, because of how good they are on the screens. The fun part is there is an actual connection as some actors were real-life thugs before or during their acting careers.
With that being said, we're going to discuss 10 actors who were arrested in real life for actual crimes.
Ronnie Nyakale
Ronnie Nyakale is a South African actor popularly known for starring in the South African drama series as a gangster and playing Cosmo in Generations the Legacy was once arrested. Ronnie Nyakale has a criminal background which Mzansi was made aware of after it was reported that he was detained alongside Mama Jackie in a trafficking case.
As a well-known actor, most people thought he was a criminal only on TV, but on the other hand, he was only released on 2000 Rands bail after being arrested. It's worth noting that on the day of his trial, his document was miraculously misplaced, leaving the court with no choice but to dismiss the case.
McDonald Ndou
McDonald Ndou, who plays the role of KK Mulaudzi was reportedly arrested with two of his accomplices during a Hawks operation at Southgate Mall, South of Johannesburg where they allegedly attempted to take hundreds of thousands of Rands from a Gauteng businessman. The two faced seven charges of impersonating police officials, extortion, theft, kidnapping, corruption, and defeating the ends of justice. Ndou remains a person of interest according to sources.
Skhumbuzo Mbatha
Skhumbuzo Mbatha who plays Meneer Manaka on Skeem Saam was arrested after he was involved in a crime bracket. The actor was named after he offered a Criminal On The Run transport. His car was used as a getaway car and he happened to be the driver, but it was later ruled that he did not know about the crime beforehand since he thought the woman was desperate for transport in the previous hours. Skhumbuzo he actor stars as Meneer Manaka and the SABC1 drama series Skeem Saam.
ZInhle Mabena
Former Isibaya actress, Zinhle Mabena, who played the on-screen character of Sihle has been reportedly arrested more than twice. The public character has made all sorts of headlines in recent years. In the back group of arrests in 2017 she was named for a similar crime a few years later. In 2017, she was arrested and detained for questioning after being involved in a horrific accident that left two dead and one paralyzed. The actress got away with the crimes since no legal action was taken.
Last year, she hooked the headlines after she was nabbed for an attempted murder. However, the attempted murder turned south instead, and it left her husband's bodyguard dead.
Presley Chweneyagae
Presley Chweneyagae, known as Cobra from The Queen is undoubtedly a bad boy just like his character in the award-winning film Tsotsi. The actor has been reportedly arrested for gender-based violence and fraud. Last year, he was nabbed and detained at the Pretoria North police station for allegedly assaulting his wife. However, terrorists came to the back group of another arrest, the actor was arrested and forced to pay a fine after driving using an Ivorian license.
Israel Matseke-Zulu
Israel Matseke-Zulu, known as Don from Gomora is known for playing the best style characters in South African drama series and films including Tsotsi, Number Number, Gangster's Paradise, Jerusalema, and others. It's not a surprise seeing him excelling in portraying Tsotsi characters on television since he was once a thug in real life.
Matseke-Zulu was an ex-convict at the age of 14 in 1987. The actor was arrested for several counts, including theft and burglary. However, he was sentenced to eight years in prison for the mix of things. After that, he was incarcerated for three years for carjacking and housebreaking at Johannesburg Prison from 1996 to 1999. After his prison departure, he became the best at playing thug or villain roles in most of his characters, if not all.
Khanya Mkhangisa
Muvhango, The Queen actress, and Selumathunzi presenter Khanya Mkhangisa were arrested twice. She was first arrested for drinking and driving and also for a hit and run. The actress was allegedly involved in a high-speed chase with police officers after a hit-and-run incident and was arrested and taken into custody. A police officer informed the media and she was arrested, detained, and released.
Khanya's television debut dates back to the 2000s when she was just a teenager. At the age of 14, she got her big break on television and became a YOTV presenter on SABC 1. After being on YOTV, she moved on to an educational science show called Knock Knock. In 2004, she made an appearance on the series Thunzi.com and after that moved over to star in Lab 1 as Refilwe, and then on to Gugu no Andile.
SK Khoza
SK Khoza is a South African actor and TV host, his father was the national president of the Independent Municipal and Allied Trade Union at some point. SK made all sorts of headlines in the past years, The Queen reportedly fired him after he was arrested for assaulting his fiance. However, this was his second arrest in 2021. Earlier that year, he made all sorts of headlines when he hosted a Super spreader party amid COVID-19, violating the lockdown regulations.
Kelly Khumalo
South African singer-songwriter, actress, and dancer Kelly Khumalo was once detained for the murder of her boyfriend Senzo Meyiwa. She was implicated in Senzo's murder in the document that was released last year by the South African director of public prosecutions. The document which was handed to the court, states that Kelly allegedly orchestrated the murder of Senzo, but it was dismissed as it was viewed as an internal opinion which helped not merit.
Kelly is known as a songstress, but she also acted in the ETV soap opera Houe of Zwide in September 2021, making her an actress too.
Maggie Benedict
Former Generations actress Maggie Benedict was arrested after allegedly stealing a 17.9 Rand packet of Panado tablets at Checkers in Johannesburg in December 2018. The actress is known for appearing in films including Attack, as well as her famous role of Akhona on Generations. She received the South African Film and Television Award for Best and Sample Cast Award for performances in the 2011 film The Maiden Game.
Well, that's all for now. It seems like anyone can get on the wrong side of the law even if they are famous. Who shocked you from our list? Leave a comment and let us know.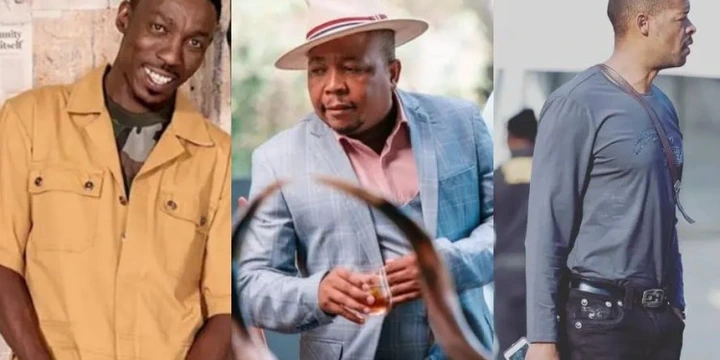 Source: https://youtu.be/7O6q5IfvI1s?si=ecuwoaKTWokx9639