'There will be lawyers': 50 Cent throws mic and injures fan [watch]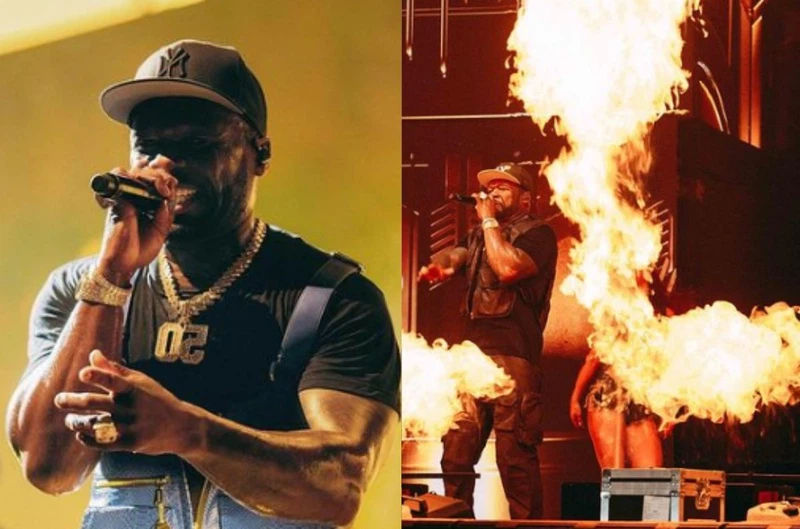 American rapper and record producer 50 Cent went haywire on stage. In his frustration, he threw a mic onto the crowd and it ended up knocking a woman who sustained injuries.
'CARDI B WITH MSUCLES': 50 CENT SMASHES MIC ON FAN'S HEAD
50 Cent – real name Curtis James Jackson III performed at the Crypto.com Arena in Los Angeles on Wednesday, 30 August, TMZ reported. Mid-concert, he was handed a broken microphone and in his frustration, he threw it and ended up hitting a fan smack dab on the head.
According to the publication, the rapper who is on his Final Lap tour was handed several mics that didn't work during the show, which triggered his frustration.
50 Cent is rumoured to have hit radio host Bryhana Monegain whose pictures showing her with deep routed injuries to the forehead are now rounding the rounds on social media.
The situation had social media users thinking about the recent incident of rapper Cardi B who had deliberately hit a fan with a microphone during her performance after the fan had taken it in her to splash her with a drink on stage unprovoked. According to Forbes, the Be Careful hitmaker was not charged.
TAKE A LOOK AT SOME REACTIONS FROM NETIZENS BELOW…
"Supposed to mic drop but interesting strategy," @lindame55ina said.
"Stop throwing mics in the crowd people!! Lol," @Urunderarrest wrote.
"Don't be mad Fifty Cent," @NikkuAbishek replied.
"The lawsuit is forthcoming, and as the great fellow Andrew, the GREAT would say, 'There will be lawyers'," @sluggahjells commented.
"Now the artists are assaulting the crowd lol," @TBarnes989 wrote.