[VIDEO] Former Miss SA in horrorific frozen fish truck crash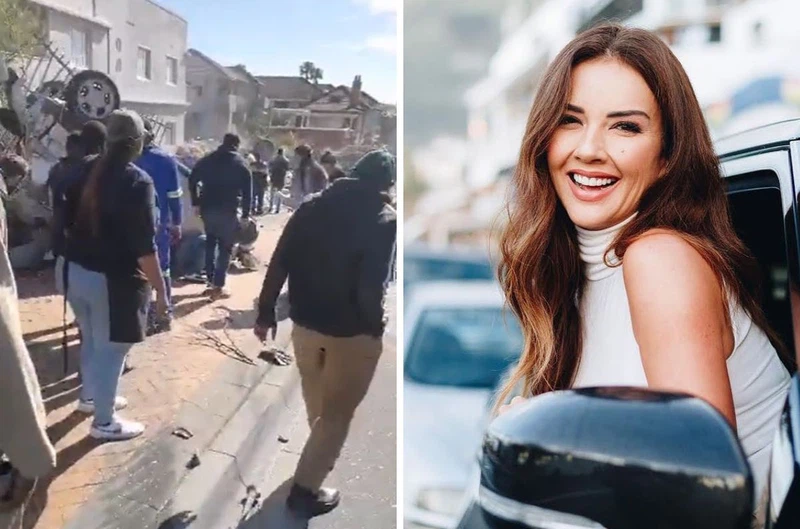 Former Miss South Africa (Miss SA) winner Cindy Nell was involved in a horror crash involving a loaded truck in the Cape Town CBD on Tuesday, 12 September.
According to Cape Town Etc, the beauty queen was one of six injured by the 24-wheeler, which crashed into five passenger vehicles before overturning on Kloof Nek.
VIDEO: FORMER MISS SA IN HORROR TRUCK CRASH
In a video posted on social media, the overturned truck crashed into an apartment block, and several passenger vehicles were seen in complete disarray following the crash.
The truck's cargo – dozens of boxes of frozen fish en route from Camps Bay – were also strewn across the roadside.
Six people, including Cindy Nell, were injured in the five-passenger vehicle crash. The accident took place on Tuesday morning.
According to 2Oceansvibe, a roadside contractor helped the trapped truck driver flee from his overturned cabin.
An SAPS spokesperson told the publication that a reckless and negligent driving case had been opened.
"The circumstances surrounding the incident are under investigation."
CINDY NELL: 'TRAUMATISED BUT FINE'
Meanwhile, 2Oceansvibe has reported that Cindy Nell is "traumatised but fine" following the horror crash.
She said: "I am so traumatised, but I am fine. I was driving on Kloof Street and going about my business, and I found it unusual that such a big truck was driving on that road.
https://www.capetownetc.com/wp-content/uploads/2023/09/tv-1.mp4?_=1
"As I was turning, I heard a screeching sound, and the truck knocked into me and dragged my car for 100 metres and spun out of control."